When you had breakfast this morning, were you reading the paper, reaching new levels on Candy Crush, or mindlessly watching the morning weather report? Did you even notice the sensation or taste of the food in your mouth? If you're like most of us, the answer is…"uh, no." We tend to go about our day rotely completing the tasks we need to to accomplish our routines. Did you know that by bringing mindful awareness to what you are doing as you are doing it, you create new neuro-chemical connections that promote contentment and overall well-being? Did you know that you can change and build neural pathways by simply taking a few minutes each day to check in with your thoughts and feelings?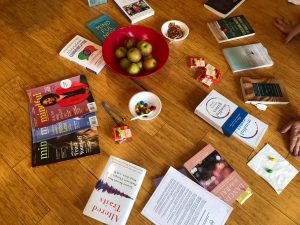 That's mindfulness! It's not a fad or a religious ritual—mindfulness is paying attention on purpose to what you are doing, thinking, and feeling at any given moment, without judging or criticizing. It's an easy gift you offer to yourself and to those in your life which leads to lifelong rewards.
"Ok, I get it…but I don't have time to add anything else in my life!" This is often our gut reaction (read: excuse) when presented with options for new, life-altering experiences and self-help techniques. What distinguishes mindfulness from other wellness practices is—IT DOESN'T TAKE EXTRA TIME! When you learn how to practice mindfulness as you go about your regular day, it actually helps create more time by freeing you from distractions and narrative-looping that tend to slow you down. Mindfulness also promotes emotional regulation and cognitive clarity, so you are less likely to do or say things re-actively that typically leave you with discomfort and regret. Mindfulness empowers you to conduct yourself in alignment with your authentic purpose and passion, so you can be at your best socially, emotionally, physically, and energetically.
Sound like something you'd like to bring into your life? Would you enjoy being more present, aware, and patient? Join us for an experiential workshop in which you'll learn the what, why, and how of mindfulness, opening your senses to the beautiful life you live.
Mindfulness Coach Erin Sonn, M.Ed., ERYT, YACEP, will lead you in exercises that build present-moment awareness, compassionate communication, and sensations of joy and gratitude.  Check the Refresh Workshops page for her events.
---
Refresh Yoga Center in Alexandria, VA offers  beginner yoga, vinyasa yoga, core, pregnancy yoga and postnatal fitness. Dedicated yoga teachers provide a challenging and motivating 200 hour yoga teacher training program two times per year. Located on King Street in Old Town Alexandria, our yoga studio is a calming oasis from the hectic DC lifestyle. All are welcome. We serve those in Alexandria, Belle Haven, Del Ray,  Annandale, Oxon Hill, and National Harbor, MD. We also have provide massage therapy, prenatal massage, reiki.