Refresh Yoga Center is proud to present Cynthia (Cindy) Anderson.  We wanted to share a little more about our caring and talented instructor, so we met up with her and asked her to answer a few questions.
Hi Cindy,
Can you tell us, what drew you to yoga?
I have always been active, so when I turned 40 it was no big surprise that my body started responding negatively to all the years of abuse. My many mountain bike crashes, snowboarding falls, along with being hit by a car were all catching up to me. Luckily a friend was going through yoga training and needed a guinea pig. I decided it was either yoga, PT or surgery.
Describe your first yoga class. Why did you go to a second class?
The first session with my friend was humbling. If yoga was a person it would be the friend that told you exactly where you stand. I was week and unbalanced in my shoulders, tight in my hamstrings, and my core was nonexistent.  I knew after that session if I could swallow my pride and work on what was challenging to me, the physical experience of yoga would at a minimum make me a better athlete.
What I found out after a couple of months of working with my friend, was most of my issues were diminishing, and my new found body awareness was translating positively into my everyday activities. As I continued my practice I had less pain in my shoulder and greater range of motion. The increased strength in my legs translated to more stability in my knees. My friend completed her training and moved away but not before planting and rooting a seed that would grow into more than just a physical yoga practice.
 What made you decide to become a teacher? 
After years of practicing at home and bouncing around to many non-traditional yoga venues, I found Refresh Yoga Center in Alexandria, VA. When the teacher training went up on the website I knew I wanted to participate. I didn't know then that I was going to teach, I just knew I wanted to learn. But just as my friend had done for me, I began sharing my yoga, and in the process found a passion. A well-known saying comes to mind, "We teach best what we most need to learn." The more I shared the more I wanted to grow my own practice – the more my practice grew the more I wanted to share. I found that teaching challenges and humbles me at the same time.
What is your favorite asana (pose)? Why?
I can't say I have a favorite. I do really enjoy the challenges of arm balances and the release of deep forward folds.
Do you have a least favorite asana? Describe-
Because of the injuries to my knees any asana that requires full flexion of my knees is difficult and sometimes painful. So I have to work to relax and surrender into Balasana (Child's Pose), and use a block in Virasana (Hero Pose).
What styles of yoga do you teach?
I really like introducing new student to yoga in the Fundamentals Class. I also like to build Slow Flow Vinyasa Classes that lead students to a challenging asana, while still allowing them to enjoy the journey. This fall I hope to introduce a Mindful Movement Yoga Class for those like me that have some physical issues they would like to know how to accommodate in their practice.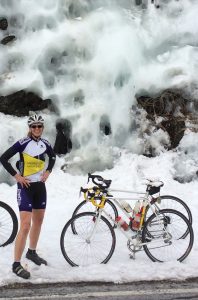 Find Cynthia Saturday mornings at Fundamentals, Friday mornings for Slow Flow, and coming this fall, Mindful Movement- Modified Yoga for those with injuries and special requirements.
Refresh Yoga Center is located on historic King Street in Old Town Alexandria, Virginia. In addition to offering yoga to our locals in Alexandria, we serve those from Arlington, Belle Haven, Oxon Hill, Potomac Yard, Del Ray, DC,  Fort Washington, and National Harbor, Maryland.